The annual Without Your Head costume and pumpkin carving contests just got bigger! Each winner of the Costume and the pumpkin carving contests will win 6 AUTOGRAPHED photos of some of our favorite guests! Just send in a picture of you in your 2016 Halloween costume and/or your carved (decorated) pumpkin! Email to WithoutYourHead@gmail.com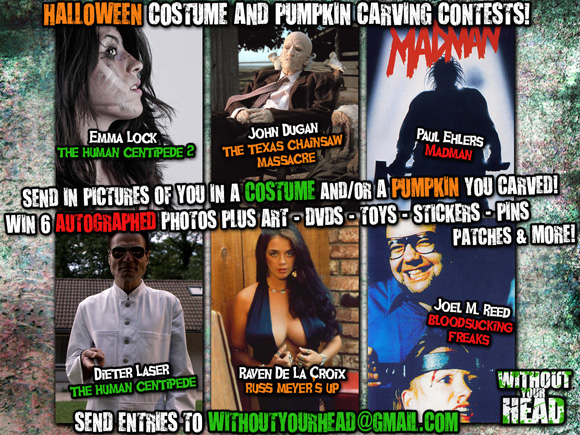 Autographed photos include:
John Dugan "Grandpa" of The Texas Chainsaw Massacre
Emma Lock of The Human Centipede 2 [Full Sequence]
Raven De La Croix of Russ Meyer's UP
Dieter Laser of The Human Centipede
Joel M. Reed director of Bloodsucking Freaks
and Paul W. Ehlers Madman Marz of Madman!

*actual photos may differ than ones shown*

Continue reading...