"Where The Devil Roams"
review by Diablo Joe

From Fantasia Film Festival 2023

Audio version


"Where The Devil Roams"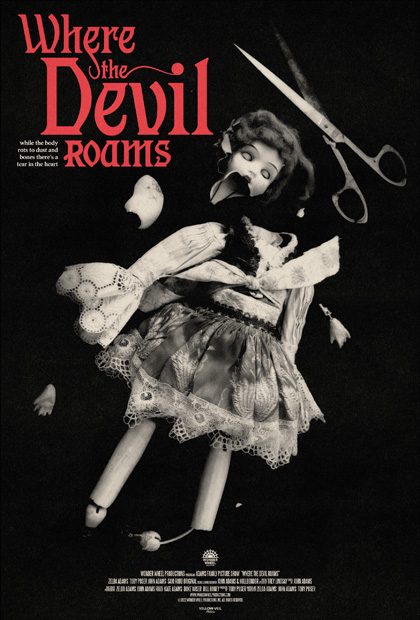 With each film, the creative team of husband-and-wife John Adams and Toby Poser and daughters Zelda and Lulu Adams—collectively known, singular "D," as the Adams Family—have grown in ambition, scope, and thematic complexity. 2021's "Hellbender" was on numerous Top 10 lists and was their best-received film to date. With "Where the Devil Roams," the Adamses have far surpassed themselves with a haunting, complex, and striking work that isn't just their best film or even one of the best horror movies of the year but one of the best films of 2023.

"Where the Devil Roams" follows a family of sideshow performers. Maggie (Poser) is the matriarch, a woman haunted by her childhood who channels those traumas into murderous violence. Father Seven (John Adams) is a former doctor whose time as a WWI Army medic has left him with sometimes crippling PTSD. Daughter Eve (Zelda Adams) is mute, except for an exceptionally stunning singing voice. The trio travel with a bizarre assortment of carny folk, including Mr. Tipps, a magician whose secrets are more than those of the common conjuror. When Eve becomes privy to the truth of Tipps's ghastly stage act, she is invited into a world far darker than anyone can imagine.

This synopsis barely touches upon the thematic complexity and emotional depth the Adamses have achieved with this film. It is an audacious and shocking piece of work, filled with breathtaking visuals, powerful performances, and maturity of vision. Past films have included (with mixed success) attempts at more surreal elements and tableaus, but "Where the Devil Roams" is masterfully poetic, ethereal, earthy, and horrifying all at once. This is a dark fairy tale on par with Jodorowsky, Gaiman, and Del Toro.

And like Jodorowsky, particularly his similarly carnival-set "Sante Sangre," the Adamses have populated their film with an array of supporting actors whose appearance might startle or shock those of the more genteel set. But unlike Jodorowsky, who sometimes seems to take glee in casting performers with deformities for their shock value, the Adamses present their actors with nothing but respect. With his background as a professional model, John Adams undoubtedly knows the power of a face. Those that fill "Where the Devil Roams" could be the envy of Fellini. They are distinct, evocative, and unflinchingly authentic. These are people to be regarded as beautiful as much as anything else.

The Adamses have created something very different from their previous films. And yet, their presence as performers in its cast aside, this is immediately recognizable as their work. The themes of family, the power of women, death, and the strangeness of rebirth and legacies, we've seen these themes wind their way through earlier movies, but never with the confidence and complexity shown here.

From the film's opening, where a man comes onto the stage to recite a dark and beautiful poem, to the closing scene, where Eve is joined on a wholly different stage by her mother and father, "Where the Devil Roams" captivates with an aura of unsettling surreal beauty. The Adamses have far superseded the expectations set by their previous film. They have focused their art into something darkly wonderful and inescapably memorable.

This devil of a reviewer gives "Where the Devil Roams" 5 out of 5 imps.