"Crabs!"
review by Diablo Joe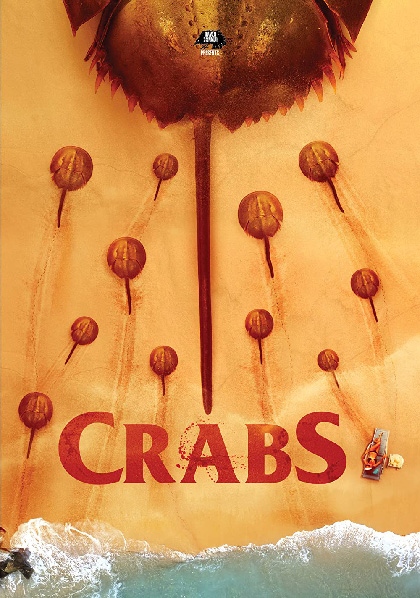 "Crabs!"

If you're of a certain age, a GenXer, if one must, you'll possibly remember that era of the early 80s when cable television and the nascent era of the video store allowed access to a myriad of movies from all genres and budget levels that it was an embarrassment of riches. What shouldn't be any embarrassment at all was loving some of the genuinely dumb films—teen sex romps to ninja action flicks—that movie fans could suddenly devour like never before. These may have been low-budget, and they may have been "bad" by cinema critique standards, but they were often slickly and earnestly made, with creative production values and actors who were game for anything and enjoying themselves.

"Crabs!" captures the sheer joy of shutting off your brain and enjoying a very well-made but dumb-as-a-box-of-rocks motion picture. It's a MOVIE movie, and, as far as the plot goes, you could get away with simply summing it up as "California teens fend off attacks from killer radioactive horseshoe crabs," and a certain segment of moviegoers would say, "Where can I watch?" Which is a good thing. Cinema may be "aht," but movies are entertainment. And "Crabs!" entertains.

Pierce Berolzheimer directs the entire film with a terrific eye for solid filmmaking chops and a knowing nod to the teen exploitation horror of a bygone age. "Crabs!" is all bright colors and blue skies with big splashes of gaudy red blood. It recreates the vibe of West Coast 80s without seeming like a pastiche and then tosses in some great monsters to thrill us. Berolzheimer knows how to make a movie. But more than that, the man knows how to make a genuinely funny one. "Crabs!" jokes land frequently and with confidence. From one-liners to absurd situations, Berolzheimer's script keeps them coming fast and furious, making the laughs from his audience do the same.

Part of the easy appeal of "Crabs!" comes from its cast. Young, good-looking, and charismatic as hell, they're perfect for this film. The movie's teen sweethearts, the paraplegic science nerd Philip and the equally brilliant Maddy, are played with adorable zeal by Dylan Riley Snyder and Allie Jennings. Snyder's "aw golly" earnestness and Jennings's plucky charm are pitch-perfect for their characters. As Maddy's mom Annalise, veteran actor Jessica Morris breezily exudes a playful appeal of the sort that Fountains of Wayne might sing about. You can easily see why Bryce Durfee, as Philip's stoner deputy older brother Hunter, would still carry a crush for his former high school teacher. Durfee is all chisel chin and macho grin but with a lovable haplessness that makes him a winner.

But the breakout character and performer in "Crabs!" is undoubtedly Chase Padgett as gonzo foreign exchange student Radu. Radu is a fish out of water in the mold of Andy Kaufman's Latka Gravis but with a side of absurd heroics that will have you claiming him as your spirit animal by the end of the movie. Padgett is truly bonkers in the role, stealing every scene he's in and visibly stunning his castmates with what seems to be an often stream-of-consciousness ad-lib performance. It's madcap brilliance.

"Crabs!" titular shelled creatures are some gloriously inventive and fun practical effects. Whether chomping on faces, bashing down walls, or engaging in larger-than-life monster fisticuffs, the crabs are a riot in their own right, with sass and character all their own. Combined with some hilariously cheesy CGI, they fit in perfectly with the carefully crafted schtick of the film.

If one critique could be leveled at "Crabs!" it's that the movie's third act, where the action moves up to kaiju-level proportions, drags a bit by comparison with the rest of the film. It's the one place where Berolzheimer's choices seem to have been a bit off. But that's a nitpick in such an otherwise wonderfully silly film, especially when enduring that small speedbump takes you to our beloved foreign oddball singing one of the greatest end-credit songs in crustacean cinema!

If your days have been dreary, "Crabs!" may give your doldrums, in the words of our dear Radu, a much-needed "punch in the taint!"

This devil of a reviewer gives "Crabs!" 3.5 out of 5 imps.