"A Wounded Fawn"
review by Diablo Joe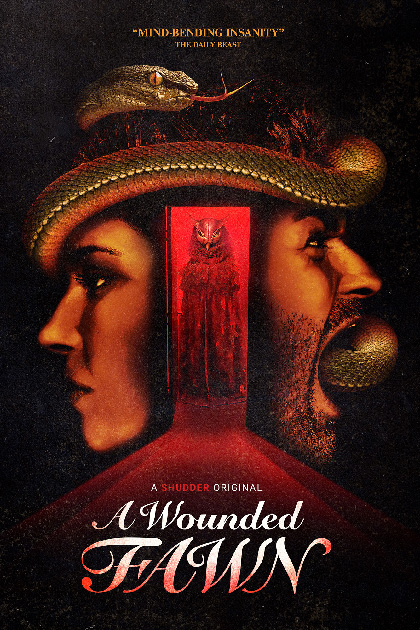 "A Wounded Fawn"

If there is one thing that director Travis Stevens's body of work, best known for "Girl on the Third Floor" and Jakob's Wife," has shown us is that his style is versatile. Stevens is not the sort of filmmaker easily pigeonholed. His latest film, "A Wounded Fawn," streaming December 1st on Shudder, is as different from those two movies as can be while still showcasing an unusual eye for visual styling and a willingness to take chances. Sometimes those chances pan out, and sometimes, they miss the mark.

"A Wounded Fawn" follows Bruce, an erudite, intelligent, and charming serial killer, as he woos his latest victim. Meredith has agreed to a romantic weekend getaway at a house she believes to be owned by Bruce. In truth, it is the home of his previous prey, who Bruce killed in conjunction with his obsession over a valuable figural sculpture. Bruce soon realizes his desire to kill Meredith and his fascination with the statue's symbolism may prove his undoing.

Stevens divides his film into two distinct parts. "Fawn" starts rather conventionally, introducing our characters and establishing the danger and tension of their situation. But then he veers into more psychological territory, as Bruce, severely injured during his attack on Meredith, struggles to contend with his demons and a host of hallucinatory imagery. The film delves deep into his psyche, keeping Bruce, and the audience, in the dark as to what is real and what is not.

The majority of the film belongs to Josh Ruben, familiar to horror audiences as both an actor and director ("Scare Me." "Werewolves Within). He excels at playing characters like Bruce—intelligent and charismatic but with a propensity toward the brutal side. With his intense eyes, strong jaw, wide mouth, and beard, he can go from handsome to terrifying at the flip of a switch. He is just the actor to take us into the darker corners of a serial killer's mind. But it is Sarah Lind who electrifies as Meredith. Horror fans will recognize her as the titular character in "The Exorcism of Molly Hartley." Tall, dark, and lithe, Lind is impossible to ignore when onscreen and lends her character a sophisticated charisma that immediately puts us on her side. Also excellent is Malin Barr as Bruce's first victim.

While Stevens's cast and dynamic visuals strike hard and true throughout the film, "Fawn's" script is where the film delivers with less assured skill. The movie expects us to accept the characters enduring and surviving ferocious punishment, and while not out of the question, it stretches credulity a bit. Also, the elaborate ties between the symbolism of the sculpture and Bruce's pathology come off as a bit pretentious and overwrought.

But the script's most egregious flaw is the deus ex machina that allows both of Bruce's intended victims—successful, urbane, and undeniably intelligent women—to find themselves at his mercy. One lets him into her home; the other joins him, as an initial date, for a weekend alone in a secluded house. Bruce is charming and good-looking but hardly hypnotically so.

In a second slight, if not quite to Lind's character, Stevens has her wear a symbolic mask throughout the film's second half. While effective as part of Bruce's mental phantasmagoria, it is a chance taken by the director that seems regrettable. Lind is such an emotive, strong presence that this decision is a disservice to both the actor and the audience.

"A Wounded Fawn" is, at times, viciously thrilling, mind-bending, and original. It can also be frustrating and confounding. It is far from a perfect film, but the strength of Stevens's vision, combined with the powerful performances of his talented cast, makes the movie worth the effort. It is an interesting offering from a director willing to take risks in the service of his work.

This devil of a reviewer gives "A Wounded Fawn" 2.5 out of 5 imps.