Uncle Sleazo's Toxic & Terrifying T.V. Hour (2022) – a feature review by Andrew Buckner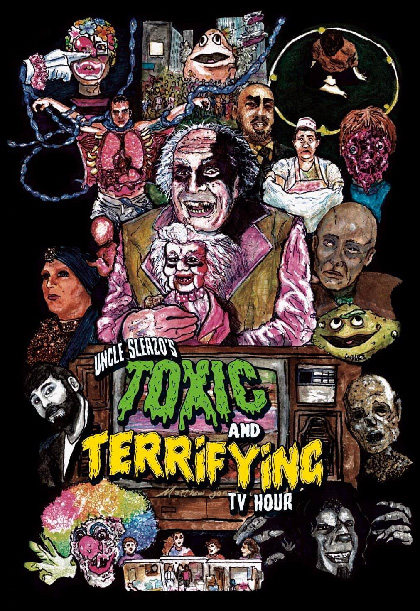 Uncle Sleazo's Toxic & Terrifying T.V. Hour (2022), from writer-director-editor and co-creator Lucky Cerruti, is the best type of nostalgia. It's 87 minutes of marvelously amusing, often intentionally campy shock mixed with an intoxicating undercurrent of dark humor. The gloriously ghoulish commentary from the naturally endearing Zacherley reminiscent title-referenced horror announcer, in a pitch-perfect depiction from Jordan Hornstein, augments the flavorful proceedings. Uncle Sleazo is among the many highlights of the composition as both a kooky, wild-haired personality and in the equally magnetic portrayal of him from Hornstein.

What also peppers the flick is its incorporation of uproarious advertisements. Director Matthew Sorensen's "Dahmer's Apartment Playset" and "It Came from the Bile Duct", as well as Cerruti's "Clown Cop", are the standouts. Thus, the pleasantly straightforward anthology satisfies on all levels. Cerruti's recent output is an almost-too-good-to-be-true delight for all of us who have fond memories of staying up as late as possible as a child to hear a monologue and potential cinematic analysis from a beloved broadcaster of the macabre. All the while eagerly anticipating what dread-infused fare the individual will have in store for his or her viewers that night.

Throughout the entirety of the film, I kept thinking back to my earliest recollections of watching Joe Bob Briggs, who remains my favorite genre host, Saturday nights on TNT'S MonsterVision (1991-2000). This factor alone had me in awe of the inherent charm and unforced wistfulness of the effort. Such a feeling also extended to the terrific-on-all-fronts craftsmanship the vehicle elucidates. Cerruti's offering is such a sheer joy that even fright fans who lack these specific remembrances are guaranteed to still find plenty to adore.

A Dead Vision Productions and Puppet Bucket Productions presentation, the undertaking commences with a remarkable near-two-minute section. It showcases a young man, Matthew (in a solid enactment from River Gray), being granted the distinct honor of obtaining the T.V. remote. This is right before his parents, aptly played by fellow co-creators and executive producers Sorensen and Leslie Dame, depart for a restaurant date that evening. As soon as Matthew is awarded this great privilege, he tunes into Uncle Sleazo's program. From herein, Uncle Sleazo introduces a trio of consistently strong, efficiently paced, and effective stories. Initially, they concern a driver whose dog bite turns into something far more disturbing than ever imagined. Next, Cerruti illustrates on celluloid a woman whose visit to a fortune teller ends in supernatural contact. The piece concludes with a narrative revealing a horrifying house call from a sinister specter.

As was the case with Cerruti's splendid 51-minute 1980's slasher exercise, Freak (2020), Uncle Sleazo's Toxic & Terrifying TV Hour boasts an assortment of incredibly impressive and inventive creature and gore effects. This is as noteworthy in the mid-1950's set and tonally appropriate for the low-budget drive-in style pictures of the era opener, "The Curse of the Beta Wolf", as it is in its climactic and briefest episode, "Transferal". The middle chapter, "The Soulmate", which is the longest article at approximately twenty-five minutes in length, is the most character-driven selection. It also has the most superb final scene. Yet, all the anecdotes play well off one another. They are all unique enough to be singular. Likewise, they are all similarly structured and frequently, in an always intelligent move, leave much to the imagination. Such a decision heightens both the underlying intensity and classic approach of the endeavor. It also makes the already deft graphic flashes even more attention-garnering and skillful.

The smartly penned work is affectionately helmed by Cerruti. This is done in a quietly elegant manner that brilliantly suits the successfully captured decade exemplified by each chronicle. Furthermore, the intentionally familiar on-screen personas are gratifyingly fleshed out. Cerruti's occasionally tongue-in-cheek dialogue is ever sharp. His score for the attempt is rousing. Moreover, his editing is proficient. The cinematography he evokes for the construction is striking. This is most evident in the black and white photography he implements in "The Curse of the Beta Wolf". Such is when this component is at its most eye-popping.

The high caliber acting is also another all-around triumphant arena of the project. Liv Watkins is fantastic as the lead, Laura, in "The Soulmate". Hope Stamper as Emily and Sorensen as Madam Althea are riveting in this portion. Bryce Stanton and Dame are memorable as Man and Visitor respectively in "Transferal". Jameson Batt is excellent as Lowell in "The Curse of the Beta Wolf". Sarah Dalton is exceptional as Debra Sue in this installment. The same can be said of Alex Hall as Connery in this stretch. The performers in the various commercials spied in the venture, such as the rendering of Billy from Oliver Patnode in "Dahmer's Apartment Playset", are tremendous. The voice-overs and music in these related morsels, as well as the magnificent animation from Kagan Rice in "My Vestigial Twin and Me!", also enhance the momentous entertainment value of the demonstration.

Uncle Sleazo is instantly iconic as both a figure and as a feature. The admirably rounded and ambitious fabrication, which benefits from outstanding costume design, will prove to be a surefire crowd-pleaser with midnight movie addicts. Complete with a gleefully retro closing credits segment that reiterates the low-tech charm of the exhibition, the production fully embraces its old-fashioned appeal. Endlessly engaging and immersive, it is one of the most spectacular trepidation-inducing outings of the year.

Uncle Sleazo's Toxic & Terrifying T.V. Hour receives ****1/2 out of ***** on The Buckner Scale.