Puppet Killer will premiere in Regal Theaters in the USA on September 21st.

Regal Tickets link: removies.com

Who's pink and furry and full of fury?


IndustryWorks Studios is pleased to announce the release of the award-winning horror comedy feature film 'Puppet Killer' exclusively at Regal September 21st. The film features a powerhouse of Award-winning Actors including Aleks Paunovic, Richard Harmon, Lisa Durupt, Jett Klyne and Gigi Saul Guerrero.

For immediate release, Vancouver, B.C. – IndustryWorks Studios is pleased to announce the much-anticipated release of the beautifully layered comedic slasher 'Puppet Killer' in theatres on September 21st, 2021.

'Puppet Killer' has made its rounds on the festival circuit, winning multiple awards including Best Feature Film, Best First Time Director, Best Ensemble Cast and more. The film features a powerhouse of Award winning cast including Aleks Paunovic (War for the Planet of The Apes, Van Helsing, I Zombie, Snowpiercer), Richard Harmon (The 100, Bates Motel), Lee Majdoub (Sonic the Hedgehog, The 100, Supernatural), Lisa Durupt (Murder She Baked, Less Than Kind), Jett Klyne (Wanda Vision, The Boy) and Gigi Saul Guerrero (Culture Shock, El Gigante).

'Puppet Killer' has garnered an impressive 73 nominations and 30 awards and is labelled as a film that is "destined for cult status". Director Lisa Ovies wrote the story and collaborated with screenwriter Kevin Mosley. 'Puppet Killer' Executive Producers are Evan Tylor, Caterina Scrivano, Lisa Ovies, and Jack Fox and is produced by Lisa Ovies, Aleah Anseth, Michelle Muldoon, Eric Carbery, and Aleks Paunovic.

'Puppet Killer's killer score comes from Composer Stephen Gallagher, most notably known for 'The Hobbit' Trilogy, 'Lovely Bones' and 'District 9'. Stephen (Gallagher) was drawn to the project as he recognized all the elements that he loved of classic horror films alive in the film. Puppet maker Jack Fox is the creative talent behind the puppet Simon.

Ten years after the disappearance of his stepmom, Jamie and his friends head to his family cabin in the woods to celebrate the Christmas break. They soon realize the demons from Jamie's past have been waiting for his return as they are forced to fight a psychotic killer obsessed with horror movie icons.

Follow the film on social media for theater listings, giveaways and more.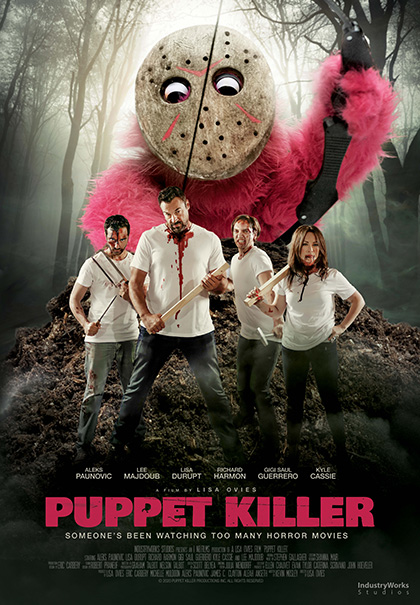 Website: industry-works.com/project/puppet-killer
IMDB: imdb.com/title/tt4278760/?ref_=nv_sr_srsg_0
Regal Ticket link: removies.com