"Sator"
review by Diablo Joe

Watch Sator today on Amazon!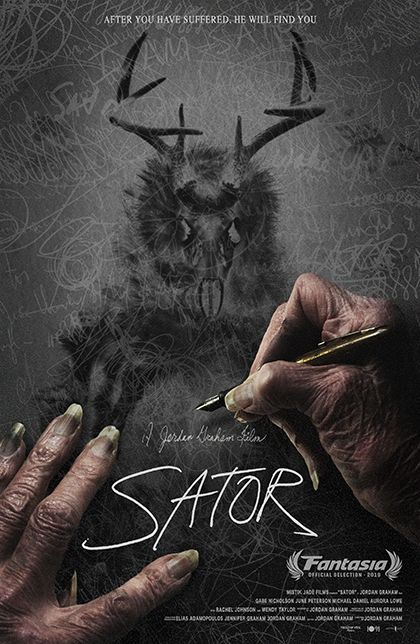 Sator



Mood-drenched, eerie, and unsettling, "Sator" is a deliberately paced, wholly unique depiction of the fragmentation of human sanity. It is beautifully shot and at points tinged with brilliance on behalf of filmmaker Jordan Graham.

"Sator" focuses on Adam, a man broken, disturbed shell of a man who lives apart from his family deep in the woods. He is haunted and obsessed with what he believes is lying deep in the darkness of the forest. His family, likewise fractured in ways of their own, attempt to reach out to him. His dementia-stricken grandmother, who speaks of a decades-long spiritual connection to the mysterious entity of the title, might be the only one who understands Adam's relationship to what lies in those shadows.

This is not a film interested in showing all its cards to its audience. It is less a narrative than a tone poem. Dialogue is minimal, and when we do hear it, it comes with unsettling weight, all the more so once a bit of the film's own backstory is known. "Sator" is, without question, a long-labored work of devotion by Graham. It is also one that carries deeply personal ties. Wendy Taylor, who portrays Nani, the grand-matriarch of the film's family, is Graham's real-life grandmother. What at first seems to be a bravura performance utterly devoid of affectation is no performance at all. Taylor's recounting of her many years of communication and interaction with the being she calls Sator was a wholly unexpected revelation to Graham and the cast. The result was Graham reshaping his original concept to incorporate her riveting monologue. It is a stroke of brilliant cinematic luck that doubles as a haunting tribute to a woman's quietly personal spiritual beliefs. Even without knowing that backstory, her words form an unnerving and ominous pall over the entire film.

This is not to say that "Sator's" success is predicated solely on that one facet. Graham is the very definition of the word "auteur," being responsible for almost every aspect of the movie, from direction and concept to cinematography, makeup, and even the construction of Adam's cabin. Perhaps we might consider the litany of responsibilities ascribed to his screen credit ridiculous had it not followed a film of such incredible ability. Every aspect of the film is so intricately crafted and presented. Just the photography alone, switching from grainy black and white to deep, rich, and dark color and encompassing a variety of screen aspect ratios, would be worthy of extended praise. Graham's audio design is as much in service of the film's success. Few movies have used quiet as such an effective tool and element. "Sator" is a masterpiece of minimalism and reduction.

Graham's cast must have been as equally dedicated to his vision as he was. Gabriel Nicholson's Adam may have minimal dialog, but his performance is powerful and immersive. As brother Pete, Michael Daniel is carefully modulated and taciturn. Both roles require physical obligations and sacrifices by the actors to show their characters in various eras and stages and illustrate their commitment. The rest of Graham's small, insular cast is likewise convincing, especially paired with Taylor's Nani.

Jordan Graham has crafted a fantastic film that will likely reward repeated viewings. That he presents such a seemingly purposeful vision while having taken the bounty given to him by his grandmother's contribution shows confidence and intelligence that any filmmaker would love to possess. "Sator" is an incredible film. It is beautiful, unsettling, and thought-provoking. And Graham will be a filmmaker to watch with anticipation.

This devil of reviewer gives "Sator" 5 out of 5 imps.