Issue 022: Peach Momoko, God Butcher, Solid Blood, Mandalorian Finale and Demon Days X-men!





December 19, 2020

1st of the Minute News:
1. Peach Peach doing some inside artwork on Marvel Comics "Demon Days: X-Men" for March 2021.
2. IDW Publishing announcement: 3rd printing of TMNT: The Last Ronin #1 on 1/27 featuring a black & white cover by Kevin B. Eastman!
3. Solid Blood #17, What is it exactly?
4. Christian Bale is coming to the MCU and Gorr the God Butcher, Is Knull coming soon!

Mando Talk:
Quick reflection on season 2 Finale of the Mandalorian, Book of Boba Fett and will there be a third season of Mandalorian.

Comic Book Wednesday:
What is coming out next Week Dec 23, 2021? Let's take a trip and look at Image, Boom, Scout, Vault, Behemoth, Marvel and more.

Join us on Facebook: facebook.com/RippedComicsPodcast

Listen on Anchor: anchor.fm/rippedcomicspodcast

Shows theme song: "Space Cadet Glow"
Artist: Jessy Jamz
To hear more of Jessy Jamz: soundcloud.com/jessyjamz

Part of the Without Your Head Podcast Network! www.WithoutYourHead.com Subscribe to the Without Your Head Podcast newsletter to receive semi-weekly updates on our schedule, guests and more!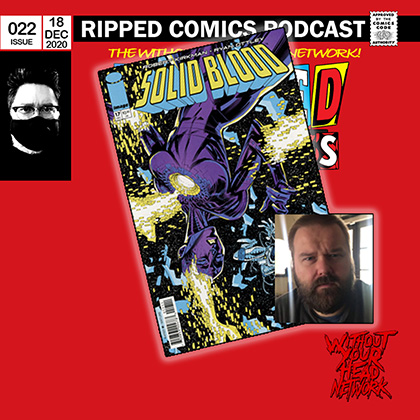 Ripped Comics Podcast
Hosted by Rob, Rol, Rich, Mari & Carlos.
A Podcast about what we love and hate about Comic Books. We examine the History, Comic Book Wednesday, Hot Comics and Comic Book News. We also look at the trends in the Buying, Selling and Trading of Comic Books from the Prehistoric Days, Golden Age, Modern Age and Future State (silver, bronze, copper, etc).

Regular Episodes available Sunday and CBW (Comic Book Wednesday) Episode on Wednesday.

anchor: anchor.fm/rippedcomicspodcast
Facebook: facebook.com/RippedComicsPodcast
Twitter: @ripped_comics
Instagram: instagram.com/rippedcomicspodcast
Subscribe to: youtube.com