The award-winning short horror film Jax in Love will be having it's official online premiere this Monday April 20th on Vimeo on Demand. Viewers will be able to rent or buy the film with access to features like a Behind the Scenes documentary, as well as the original IndieGoGo pitch video. The film stars Rakefet Abergel (Superbad, New Girl, Shameless) as Jax, a lonely wanderer searching for a human connection.

"I'm really proud of this film and proud of the recognition I received for my performance in it," said Rakefet Abergel, who also wrote and produced the film. "I'm excited that it's finally going to be available for online viewers and I hope you'll buy it and watch it over and over, like you REALLY like it! Share your 4/20 with Jax!"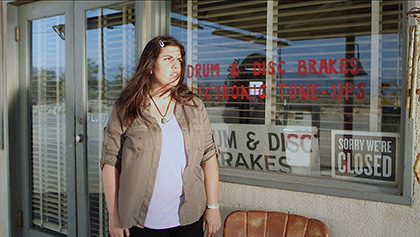 Jax in Love is the first film from Rakefet Abergel's production company, Cyclamen Films. It was directed by Oscar-nominee Colin Campbell. The second film, Boo, which Abergel wrote, produced, starred in, and also directed, has garnered several Best Director, Best Writing, and Best Female Filmmaker awards this past year and screened at the Oscar-qualifying festival, HollyShorts in Hollywood, CA. Jax in Love is now playing on ShortsTV in the U.S. and Latin American territories.

Jax in Love features a cameo performance by Laura Slade Wiggins (Shameless, Rings), and in a 180-turn from his goofy boyfriend character on ABC's The Middle, John Gammon shows us a whole other side. Ben Kacsandi (Please Tell Me I'm Adopted) brings an easy charm to the role of Jake and the film also stars talented newcomers Devi Veysey and Lia Mariella Russo, (Avengers:Endgame).

The film will be available to buy or rent on Vimeo at: vimeo.com/ondemand/jaxinlov starting Monday morning, April 20, 2020. You can also watch a trailer there as well. Rakefet will be doing a live Q&A on the Jax in Love Facebook page with some of the cast on Friday, April 24th. Check the page for updates.