Modern day horror icon Sadie Katz of "Hanukkah" and the men behind "Fantastic Fest" favorite "Butt Boy" Tyler Cormack and Tyler Rice!



Sadie Katz returned!
- Joe Knetter the role of "The Hanukiller" in "Hanukkah"
- working with director Eben McGarr
- her friendship with Victoria De Mare and Victoria's performance in the film
- the term scream queen
- the coronavirus and lock down
- her new film "Megan" available now on VOD on Vimeo
- check out the throw back slasher flick "Hanukkah" out now on DVD, BluRay and VOD!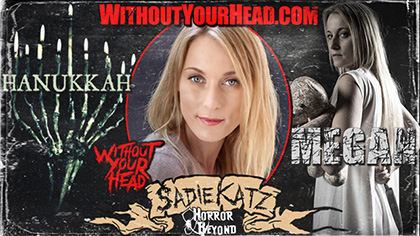 Tyler Cormack and Tyler Rice joined the show!
- "Butt Boy"
- their instagram shorts
- "Fantastic Fest"
- genre defying films
- their chemistry
- how the virus affected their festival run
- what's coming up for them and more!
- check out Tiny Cinema on YouTube and Instagram!




"The Headless Critic" joined Nasty Neal and Terrible Troy!
- Jason's big announcement that changed the landscape of WYH forever!
- CG buttholes in "Cats"
- review of "The Invisible Man"
- no cinemas for now
- horror conventions not giving refunds
- tons more madness so listen up!


[ Anchor.FM ] [ Spotify ] [ YouTube ] [ iTunes ] [ Stitcher ]
[ Google Play ] [ Radio Public ] [ Pocket Casts ] [ RSS ]
Subscribe to the
Without Your Head
newsletter to receive weekly updates on our schedule, guests and more!
Tracks for this podcast -
Original theme song by
The Tomb of Nick Cage
and "You're Pain" and "Die Die" by
Victoria De Mare
!
Join in the fun at:
www.facebook.com/groups/withoutyourheadhorror
Subscribe to
Youtube.com/WithoutYourHead
Follow us on Twitter @WithoutYourHead
Follow us on Instagram @WithoutYourHead