Harley Wallen and Yan Birch (The People Under The Stairs) joined us to talk about their new film "Agramon's Gate"!
Scream queen, action figure, musician and all around talented Victoria De Mare returns to talk the upcoming "Hanukkah"!



Harley Wallen and Yan Birch opened the show!
- new film "Agramon's Gate" premiering this Friday and on VOD the 11th!
- their working history
- horror films
- Sweden
- mediums and spirits
- playing a demon
- makeup and FX
- upcoming projects and more!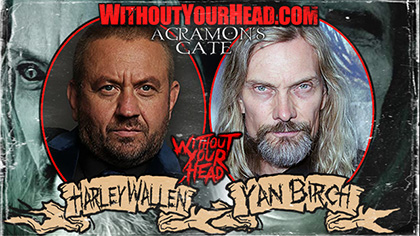 Victoria De Mare returned for a 3rd time!
- her new film "Hanukkah" coming in March
- watching the premiere in December
- Eben McGarr & Chris Ott
- Joe Knetter
- memories of Sid Haig
- Sadie Katz
- living in LA for 20 years
- being in a Steven Seagal movie "Beyond The Law"
- her music and so much more!
Preorder "Hanukkah" now!
Hanukiller.com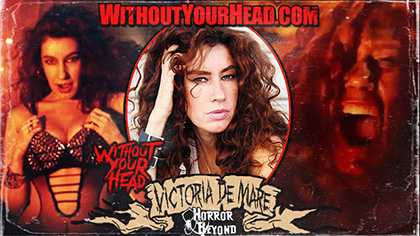 [ Anchor.FM ] [ Spotify ] [ YouTube ] [ iTunes ] [ Stitcher ]
[ Google Play ] [ Radio Public ] [ Pocket Casts ] [ RSS ]
Subscribe to the
Without Your Head
newsletter to receive weekly updates on our schedule, guests and more!
Tracks for this podcast -
Original theme song by
The Tomb of Nick Cage
"Zombie Love Doll" and "Screamin Demon" by Music of the Month
The Evil Streaks
!
Join in the fun at:
www.facebook.com/groups/withoutyourheadhorror
Subscribe to
Youtube.com/WithoutYourHead
Follow us on Twitter @WithoutYourHead
Follow us on Instagram @WithoutYourHead