Trista Robinson currently of the much talked about "Echoes of Fear"! Robert Perez of South Texas Underground Film Festival!



Trista Robinson returned!
- "Echoes of Fear" from the festival run to VOD to coming to BluRay in March
- "Purgatory Road"
- playing a villain vs hero
- secret film she did with Neal recently
- acting techniques
- the horror genre
- watching horror with her father
- sexy/slutty Halloween costume ideas for Nasty Neal
- Michael Epstein and Sophia Cacciola
- Mark Savage
- Brian and Lo Avenent-Bradley
- pro wrestling
- so much more, such a fun time!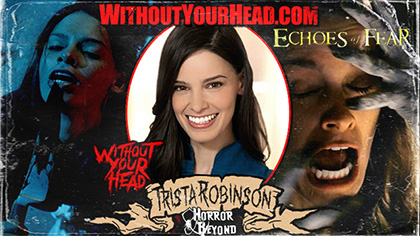 Robert Perez joined us!
- South Texas Underground Film Festival 8 that just happened
- independent film
- The Alamo Drafthouse
- the upcoming STUFF 9
- the future of STUFF
- sneak peaks at awards and more!
- get your submissions in now for STUFF 9!
filmfreeway.com/STUFtx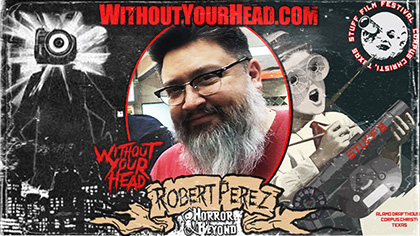 [ Anchor.FM ] [ Spotify ] [ YouTube ] [ iTunes ] [ Stitcher ]
[ Google Play ] [ Radio Public ] [ Pocket Casts ] [ RSS ]
Subscribe to the
Without Your Head
newsletter to receive weekly updates on our schedule, guests and more!
Tracks for this podcast -
Original theme song by
The Tomb of Nick Cage
"Satan's Toy" and "The Creeper" by Music of the Month
The Evil Streaks
!
Join in the fun at:
www.facebook.com/groups/withoutyourheadhorror
Subscribe to
Youtube.com/WithoutYourHead
Follow us on Twitter @WithoutYourHead
Follow us on Instagram @WithoutYourHead