The iconic Clint Howard joined us to talk about his new film "The Church"!

Stuntman and actor of 6 decades Gary Kent also joined us! Gary is one of the key inspirations for the Brad Pitt character on "Once Upon a Time in Hollywood" including a real life run in with the Manson Family. Gary is also the subject of a new documentary "Danger God"!



The Iconic Clint Howard opened the show!
- "The Church" with Bill Moseley
- "3 From Hell" and working with Rob Zombie
- "The Ice Cream Man" and a possible sequel
- changes in the industry
- his dad Vance and their final film together "Appleseed"
- his brother Ron Howard
- "Star Trek"
- so much more so stop reading and check it out!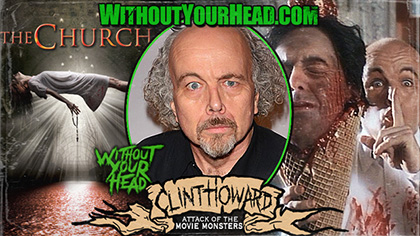 Stuntman and actor of 6 decades Gary Kent!
- his new documentary "Danger God"
- the real story of his altercation with Charles Manson on Spahn Ranch that inspired the Brad Pitt character in "Once Upon A Time In Hollywood"
- lunch with Quentin Tarantino
- breaking into stunt work
- what was Bruce Lee like
- Ray Steckler
- injuries
- Jack Nicholson
- the drug scene in the 60s
- Al Adamson
- Satan's Sadists and so much more!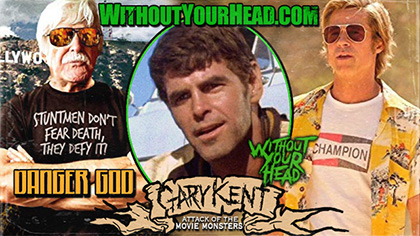 "Creepy" Craig Lindberg joined "Nasty" Neal and "Terrible" Troy going over:
- D&D
- "Dracula" and "Frankenstein"
- "Cats" trailer and all sorts of silliness!


[ Anchor.FM ] [ Spotify ] [ YouTube ] [ iTunes ] [ Stitcher ]
[ Google Play ] [ Radio Public ] [ Pocket Casts ] [ RSS ]
Subscribe to the
Without Your Head
newsletter to receive weekly updates on our schedule, guests and more!
Tracks for this podcast -
Our new theme song by
The Tomb of Nick Cage
"Last Call" by Dead Dick Hammer, "I Was A Teenage Frankenstein" by The B-Movie Monsters and "Bats Blood and Bitches" by The Casket Creatures!
Join in the fun at:
www.facebook.com/groups/withoutyourheadhorror
Subscribe to
Youtube.com/WithoutYourHead
Follow us on Twitter @WithoutYourHead
Follow us on Instagram @WithoutYourHead