Joe Castro FX artist and filmmaker joined the show to talk about his career and his newest film "Xenophobia" available now on VOD and DVD & BluRay!



Joe Castro joined us!
- his new movie "Xenophobia" available now on VOD, DVD and BluRay!
- Brinke Stevens
- Nick Principe
- "Terror Toons"
- James Balsamo's "It Wants Blood"
- "Half Cocked" on the festival scene now
- Herschell Gordon Lewis
- "Blood Feast 2" and more!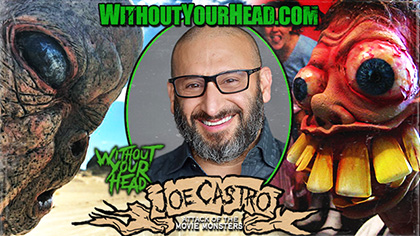 [ Anchor.FM ] [ Spotify ] [ YouTube ] [ iTunes ] [ Stitcher ]
[ Google Play ] [ Radio Public ] [ Pocket Casts ] [ RSS ]
Subscribe to the
Without Your Head
newsletter to receive weekly updates on our schedule, guests and more!
Tracks for this podcast -
Our new theme song by
The Tomb of Nick Cage
"They Came From Outer Space" by
Army of Walking Corpses
and "Jet "Rocket" Spaceship!" by
Darling Pet
Monkee
!
Join in the fun at:
www.facebook.com/groups/withoutyourheadhorror
Subscribe to
Youtube.com/WithoutYourHead
Follow us on Twitter @WithoutYourHead
Follow us on Instagram @WithoutYourHead