Rakefet Abergel writer, producer, director and star of "BOO" currently on the festival scene!
CyclamenFilms.com



Rakefet Abergel of "BOO" and "Jax in Love" opened the show!
- writing an interesting character for herself
- the horror festival scene
- casting a movie
- comedy background
- winning the coveted "Murder Burger" at Happenstance Horror Festival
- personal stories within art and more!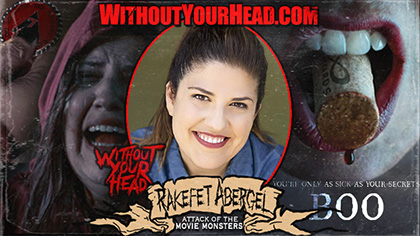 "Nasty" Neal and "Terrible" Troy then finished the show with:
- upcoming Zombie month
- upcoming films on Shudder in July
- "Child's Play" review
- "Jaws" board game
- "Universal Horror" coming to BluRay
- "Annabelle Comes Home" opening this weekend
- "Midsommar" coming next week and more!


[ Anchor.FM ] [ Spotify ] [ YouTube ] [ iTunes ] [ Stitcher ]
[ Google Play ] [ Radio Public ] [ Pocket Casts ] [ RSS ]
Subscribe to the
Without Your Head
newsletter to receive weekly updates on our schedule, guests and more!
Tracks for this podcast -
Our new theme song by
The Tomb of Nick Cage
"Lust For Love" and "My Lover's Eyes" by Music of the Month
Michael Trapp
!
Join in the fun at:
www.facebook.com/groups/withoutyourheadhorror
Subscribe to
Youtube.com/WithoutYourHead
Follow us on Twitter @WithoutYourHead
Follow us on Instagram @WithoutYourHead