Review of "Clinton Road" by The Headless Critic

Clinton Road – 2019

Production by: Growing Tree Productions, Stanulis Films, Noel Ashman Entertainment
Distribution by: Midnight Releasing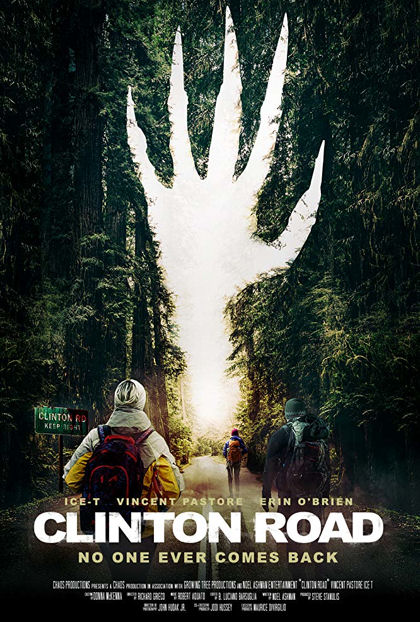 "There is a ten mile stretch of road in New Jersey that's gained notoriety over the years. Legends of murder, hauntings, the occult and of the paranormal surround the area. It is considered one of the most haunted places in the United States."

Several years ago Michael's (Ace Young) wife Jess (Sarah Pribis) vanished along a stretch of the supposedly haunted Clinton Road. Jessica's sister Isabella (Katie Morrison) has gotten back in contact with Michael and his new girlfriend Kayla (Lauren LaVera) because she's come up with a plan to finally find out what happened to Jessica. Isabella wants to take their friend Gianna (Erin O'Brien) and Gianna's new boyfriend Begory (James DeBello) who's a medium to the sight where Jessica went missing and maybe finally get some answers. Club owner RJ (Ice-T) has warned them that place is "dark and evil" telling them his own horror stories. When they get there Ranger (Carlos Leon) warns them again to leave but some people just can't stay off Clinton Road.

90's B-movie heartthrob Richard Grieco with co-director Steve Stanulis who also co-wrote the movie with Derek Ross Mackay take the supposed real story of New Jersey's Clinton road and turn it into a B-Horror movie. The first act is getting the large cast together full of cameo's that don't matter and core characters that blend together and you just don't care about. This mostly happens at a club co-owned by Ice-T and Soprano's star Vincent Pastore, both there for their cameos and an ever so brief appearance by Eric Roberts. The second act goes full cliché horror to an almost comical level of flashbacks, sex in the woods and following distant sounds in the night. The final act offers up a confusing mix of ghostly little girls, bludgeoning wood wanderers and park rangers all appearing to blurry camera effects for no reason. Let's not forget the unexplained hands at the window and underwater somethings that go unseen as they pull you under.



All of this to lead to a husband kissing his sister-in-law who appears to him as his deceased wife. More important, a sister makes out with her brother-in-law who appears to her as her sister? Why in Isabella's mind is she kissing her naked sister?

In my favorite scene a forty year old couple who for some reason have just parked in the woods to make out are scared by a crazy man running by, screaming for his life. As soon as the crazy man leaves the man in the car immediately begins to go down on his woman, seems logical. In order to make it out of this haunted stretch of woods that Clinton Road runs through, these relatives are going to have to stop making out and falling to horror cliché's and escape this wooded New Jersey purgatory before the souls from the past that are trapped here collect new souls to stay. Stick around for the post-credits for a scene with director Richard Grieco.

Available Now on VOD

1 out of 5 Headless Critics