Review of "Ma" by The Headless Critic

Ma – 2019

Production by: Blumhouse Productions, Hurwitz Creative, Wyolah Films
Distribution by: Universal Pictures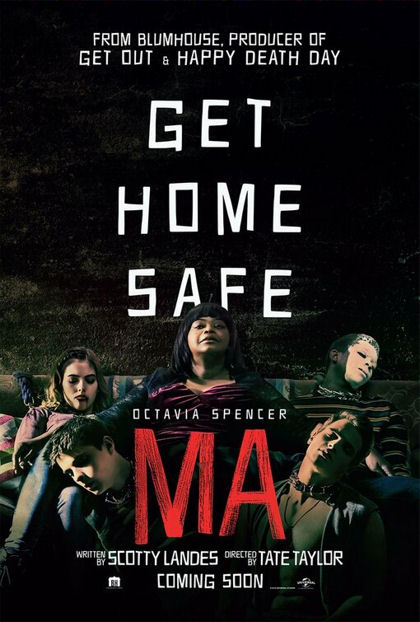 Sixteen year old high school student Maggie (Diana Silvers) just moved from San Diego to the small Ohio town her mom Erica (Juliette Lewis) grew up in. With her mom working all the time at her new job, Maggie turns to her new friend Haley (McKaley Miller) and budding love interest Andy (Corey Fogelmanis) to keep her from being home alone. Maggie came to party. Standing outside a liquor store asking adults to buy them booze, the underage kids find an adult to hook them up but Sue Ann (Octavia Spencer). Sue Ann just can't bear the thought of the kids potentially drunk driving home. She just want them to get home safe.

Offering up her basements to the youths for them to party, Sue Ann soon becomes a second Ma to the kids providing a safe haven for their youthful shenanigans. Ma's place becomes the party place for all the high school students in the area but Ma grows a little too attached to these teens who take her out of her routine and boring life. The alcohol providing Ma is taken back to her teenage years partying with these kids but when they try to pull away from her, Ma pulls them back in.

A lonely woman befriends a bunch of teenagers and she'll die before she sees them grow up and leave her house. Ma is a horror thriller story of obsession and vengeance. A slow physiological thriller ends in all out horror. Director Tate Taylor brings realism to the world of horror with a dramatic script that evolves slowly into madness. Realism is my favorite kind of horror and Ma takes the time needed to evolve characters and tell a story.

The cast makes the movie from casting age appropriate actors like teenage Dante Brown to play high school students and bringing back a wonderful actress to a big role in Juliette Lewis. Tate Taylor is reunited with his The Help co-star Octavia Spencer to make a completely different kind of movie altogether. The stand out actress takes a horror movie villain and makes you feel sympathy and compassion for her. She plays a multi-layered role exerting Sue Ann as a little girl and Ma as a psychopath. She evokes emotion from the viewer taking you from lonely to obsessed, from abused to abuser, from sane to insanity and that's what I want to see in my horror movie villains. Octavia Spencer makes Ma come alive as Ma tries to kill everyone else.



Take note Halloween, this is how you end a movie in a basement with a killer burning in a house.

Playing Now in Theaters

4 out of 5 Headless Critics