Andres Kaiser director of "Feral" screening at Hola Mexico Film Festival and Ken Carpenter "CameraFace" Cenobite of "Hellraiser 3 : Hell On Earth!"



Andres Kaiser opened the show!
- making "Feral"
- the documentary style
- background in editing
- narrative of a documentary
- horror in Mexico
- making horror movies
- much more check out his film at the HolaMexicoff.com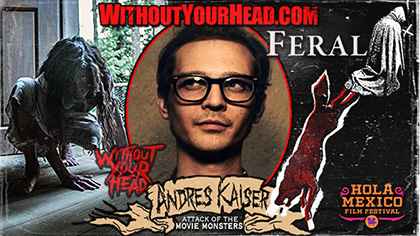 Ken Carpenter then joined us!
- "Helllraiser III"
- Doug Bradley
- thoughts on a reboot
- the makeup of "Camerahead"
- Dan Haggerty
- "Elves"
- wanting to make a horror movie
- political books and more!
KenCarpenterII.com




Then Terrible Troy and Nasty Neal went over:
- "Game of Thrones" review and comments on the fan reaction
- Joe Bob Briggs returning for a second season on "Shudder"
- makeup artist Craig Lindberg calls in to talk about "Godzilla", "Mothra" and more!


[ Anchor.FM ] [ Spotify ] [ YouTube ] [ iTunes ] [ Stitcher ]
[ Google Play ] [ Radio Public ] [ Pocket Casts ] [ RSS ]
Subscribe to the
Without Your Head
newsletter to receive weekly updates on our schedule, guests and more!
Tracks for this podcast -
Our new theme song by
The Tomb of Nick Cage
"Stitched Lips" and "Till the End" by Music of the Month
Jess-O-Lantern
!
Join in the fun at:
www.facebook.com/groups/withoutyourheadhorror
Subscribe to
Youtube.com/WithoutYourHead
Follow us on Twitter @WithoutYourHead
Follow us on Instagram @WithoutYourHead