Miguel Nunez, Jr of Return of the Living Dead, Friday the 13th Part 5, Juwanna Mann and the new film Worth! Along with Penny Lane director of Hail Satan?



Miguel Nunez opened the show!
- his new film "Worth" now on Amazon Prime and Tubi!
- Eduardo Castrillo
- "Return of the Living Dead"
- Linnea Quigley
- "Friday the 13th : The New Beginning"
- "Juwanna Mann"
- Eddie Murphy
- overcoming homelessness and much more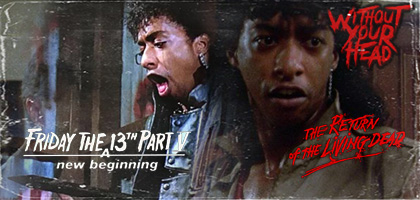 Penny Lane then joined the show
- her new film "Hail satan?"
- Lucien Greaves
- Jex Blackmore
- Boston Underground Film Festival and more!




"Nasty" Neal wrapped up the show with:
- "The Ranger" coming to Shudder
- is 2019 the year of the "Critters"?
- James Wan wants to remake "Salem's Lot"
- "The Velocipastor"
- "The Curse of La Llorona" review and more!


[ Anchor.FM ] [ Spotify ] [ YouTube ] [ iTunes ] [ Stitcher ]
[ Google Play ] [ Radio Public ] [ Pocket Casts ] [ RSS ]
Subscribe to the
Without Your Head
newsletter to receive weekly updates on our schedule, guests and more!
Tracks for this podcast -
Our new theme song by
The Tomb of Nick Cage
"The Girl Who Was Death" from "Do Nor Forsake Me Oh My Darling", "Mary Magdalene" from "Catherine Capozzi and Axemunkee present - Bring Us Your Women" and "Faith in Free Part One" from "Michael J. Epstein Memorial Library" by Music of the Month
Sophia Cacciola and Michael Epstein
!
Please help keep WYH running!
Join in the fun at:
www.facebook.com/groups/withoutyourheadhorror
Subscribe to
Youtube.com/WithoutYourHead
Follow us on Twitter @WithoutYourHead
Follow us on Instagram @WithoutYourHead