The 21st Annual Boston Underground Film Festival

Unleashes Five Days of Cinemadness on Cambridge from March 20th through the 24th

Titles Include Hail Satan?, Mope, Tone-Deaf, Knife+Heart, The Unthinkable and More!



Cambridge, MA – New England cinephiles! Spring festival season kicks off in two weeks when the 21st annual Boston Underground Film Festival returns to Harvard Square, bringing with it a five-day film frenzy to the Brattle Theatre and Harvard Film Archive from March 20th through the 24th. This year's program includes a fierce and fresh collection of transgressive, unholy, and unthinkable underground cinema, along with a few outsider-odyssic festival favorites from near and far (in space and time)!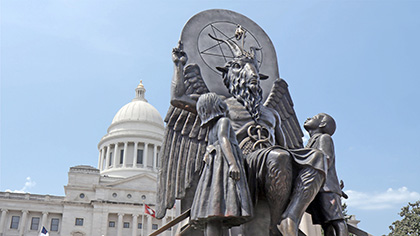 BUFF marks the occasion of its decadent and debaucherous 2-1 with the number of the beast: Director Penny Lane's provocative Sundance-sensation Hail Satan? crowns this year's festivities with its inspirational and entertaining chronicle of the extraordinary rise of one of America's most colorful and controversial religious movements, The Satanic Temple (TST). A damning commentary on the role of organized religion in our purportedly secular society, Hail Satan? challenges preconceived notions about the objectives of the nontheistic, Salem-based, political activist movement and offers "a timely look at a group of often misunderstood outsiders whose unwavering commitment to social and political justice has empowered thousands of people around the world." Filmmaker Lane and TST co-founder & spokesperson Lucien Greaves will be present for a post-screening Q&A.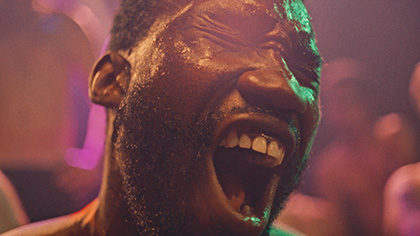 Reaffirming last year's commitment to giving first-time feature filmmakers a broader presence at the festival, BUFF celebrates a bounty of exhilarating visions from the cinematic edge, including Lucas Heyne's Sundance-smashing porn-drama-cum-true-crime tragicomedy, Mope, and Crazy Pictures' Swedish, precisely-paced disasterama The Unthinkable, which delivers a pulse-pounding stunner of a closing night!

BUFF revisits its roots with a double-dose of 90's DIY Queen of the Underground Sarah Jacobson—her 1997 feature debut Mary Jane's Not A Virgin Anymore, paired with her seminal short from 1993, I Was A Teenage Serial Killer—painstakingly restored in 2K by the American Genre Film Archive. In perfect complementary fashion, BUFF also presents Industrial Accident: The Story of Wax Trax! Records—Julia Nash's personal chronicle of her father Jim and his partner Dannie, who formed an unlikely family of punks, queers, and outsiders on their transformative, breakneck ride through the music and culture of the 80s underground scene—to Boston's industrial devotees.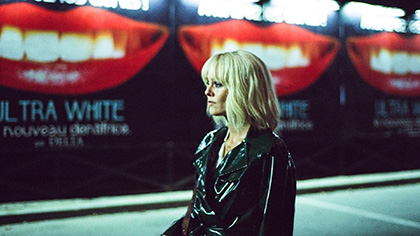 BUFF's queer flag flies high with coming-of-age wartime musical Canary, Christiaan Olwagen's electrifying tale of a smalltown boy coming out to a Bronski Beat in mid-80s South Africa, and Yann Gonzalez's synth-infused, erotic queer giallo, Knife+Heart, which marries lush De Palma-esque mise-en-scène with a spellbinding score by M83 (which is helmed by Gonzalez's brother, Anthony).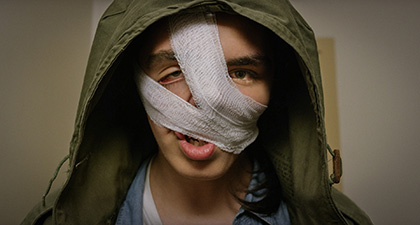 From Satanists to mopes, to Sarah Jacobson and Wax Trax! Records, outsiders rule the screen at #BUFF21 and Alexandre Franchi's part autobiographical coming-of-age, part D&D-fuelled fable Happy Face bears an antidote to the tyranny of beauty with no makeup, no sfx, no filter and all heart, as a quixotic teen goes incognito to group therapy for the facially different in a misguided attempt to reconnect with his cancer-stricken mother. Join us for a post-screening Q&A with the director as well!

Fans of horror, have no fear, there's plenty that's fearsome in this year's lineup! Adrian Panek's harrowing, horrifying Werewolf, raises the bar for siege films to disorienting new heights, while this year's midnight Secret Screening is guaranteed to be one of the year's most groundbreaking works of terror. After recovering from a subsequently restless night, be sure to join us bright-but-not-too-early for a space-themed brunch, with the filmmakers, at the US Premiere of Drew Bolduc's dark sci-fi gem Assassinaut, which follows a group of spacewrecked teens on a mission to save the President of Earth from a murderous astronaut.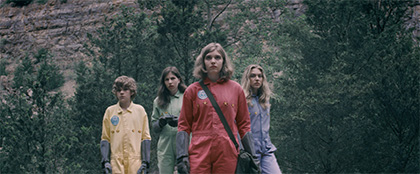 For those that love their scares with a side-order of laughs, festival alumnus Richard Bates Jr. returns with Tone-Deaf, a brilliantly bleak critique of the bizarre cultural/political climate those of us trapped in timeline B are experiencing, starring Amanda Crew (Silicon Valley) and Robert Patrick (Terminator 2: Judgment Day) in a home-away-from-home invasion horror comedy fresh off its world premiere at SXSW! And the laughs keep coming with Sophia Cacciola and Michael J. Epstein's internet-age lambasting horror comedy, Clickbait; join us in hailing these hometown heroes as they join us for a post-screening Q&A!

Our annual kid-friendly Saturday Morning All-You-Can-Eat Cereal Cartoon Party tunes back in to a cherished bygone pastime with three hours of 'toons and cereal smorgasbord, hosted and programmed by renowned curator, author, publisher, and founder of the Miskatonic Institute of Horror Studies, Kier-La Janisse, PLUS a veritable bounty of shorts programming, celebrating the finest animation, transgressive horror and genre-inspired music videos, awaits!

Festival passes sold out online last month through BUFF's annual crowdfunder; individual screening tickets will be available online for advanced sales and at the Brattle Theatre box office.

Tickets on sale at .brattlefilm.org and bostonunderground.org

BOSTON UNDERGROUND:

ASSASSINAUT - US Premiere
Drew Bolduc | USA | 2018

Assassinaut is a science-fiction adventure film about a young girl who braves the alien wilderness of a faraway planet to save the President of Earth from a murderous astronaut.

CANARY - New England Premiere
Christiaan Olwagen | South Africa | 2018

A coming-of-age war musical about a small town boy who gets chosen to serve his compulsory two year military training in the South African Defence Force Choir and Concert group - known as the "Canaries"- during the height of the Apartheid regime.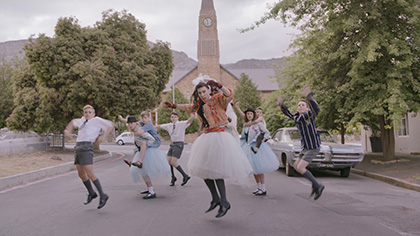 CLICKBAIT - Massachusetts Premiere
Sophia Cacciola & Michael J. Epstein | USA | 2018

A college student who will do just about anything for Internet fame is kidnapped by a fan, and her reluctant roommate is the only one who can save her in this horror satire of popularity culture. Hometown heroes Sophia Cacciola & Michael J. Epstein bring the first feature they've directed, since relocating to Los Angeles, for a homecoming encore.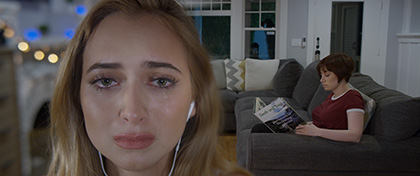 HAIL SATAN? - Sneak Preview
Penny Lane | USA | 2019

With unprecedented access, HAIL SATAN traces the rise of The Satanic Temple: only six years old and already one of the most controversial religious movements in American history. The Temple and its enigmatic leader Lucien Greaves are calling for a Satanic revolution to save the nation's soul. But are they for real?

HAPPY FACE - East Coast Premiere
Alexandre Franchi | Canada | 2018

Desperate to become less shallow, a handsome teenage boy deforms his face with bandages and attends a support group for disfigured people.

INDUSTRIAL ACCIDENT: THE STORY OF WAX TRAX! RECORDS - Boston Premiere
Julia Nash | USA | 2018

Throughout the 70s, 80s, and 90s, Wax Trax! founders Jim Nash and Dannie Flesher led a tribe of outsiders on a ride through the 80s underground, accidentally changing music along the way. INDUSTRIAL ACCIDENT explores the life and legacy that pioneered an emerging underground scene – industrial dance music – and features interviews with the likes of Trent Reznor, Dave Grohl, Ian MacKaye, Jello Biafra, Cosey Fanni Tutti, Al Jourgensen, Franke Nardiello, Chris Connelly, and more.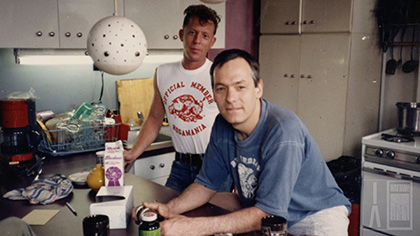 KNIFE+HEART - New England Premiere
Yann Gonzalez | France/Mexico | 2019

Paris, summer 1979. Anne is a producer of gay porn at discount. When Loïs, her editor and companion, leaves her, she attempts to reclaim her by turning a film more ambitious with the flamboyant Archibald.

MARY JANE'S NOT A VIRGIN ANYMORE - 2K Restoration
Sarah Jacobson | USA | 1997

Jacobson's only feature film, is a vibrant and vital antidote to every phony Hollywood teen picture, bringing lo-fi realness to the coming-of-age genre. Sure, the usual signposts are here — first job, first time, crushes, friendships, fitting in and figuring it out — but all are handled with utter honesty. Paired with her short film I WAS A TEENAGE SERIAL KILLER, Jacobson's punk-spirited DIY films combine B-movie aesthetics and riot grrrl feminism in brand new 2K preservations, presented by the American Genre Film Archive.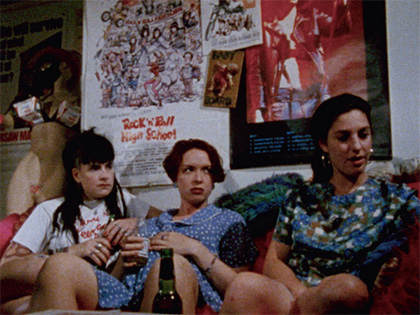 MOPE - East Coast Premiere
Lucas Heyne | USA | 2019

The tragic true story of best friends Steve Driver and Tom Dong, two low end porn actors who sought fame but gained infamy.

TONE-DEAF - East Coast Premiere
Richard Bates Jr. | USA | 2019

After losing her job and having a recent, complicated relationship implode, a woman flees to the countryside for a weekend getaway, where she finds anything but respite as her rental's owner struggles to to control his psychopathic tendencies.

THE UNTHINKABLE - New England Premiere
Crazy Pictures | Sweden | 2018

Sweden is under attack by an unknown force, and in the midst of the chaos, Alex tries to reunite with his girlfriend.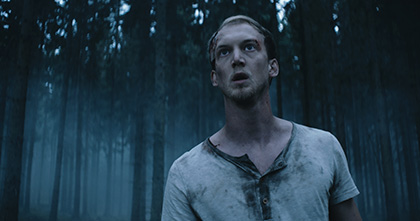 WEREWOLF - New England Premiere
Adrian Panek | Poland | 2018

Children liberated from a Nazi concentration camp must overcome hunger, thirst and vicious dogs in an abandoned mansion surrounded by the forest. Little do they know that their fight for freedom has only just begun.