Without Your Head returned with writer/producer Ashlee Blackwell and director Xavier Burgin of Horror Noire now streaming on Shudder!
Shudder.com



Horror Noire writer/producer Ashlee Blackwell and director Xavier!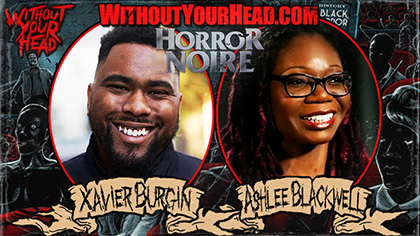 Then Nasty Neal and Terrible Troy went over:
- Neal's surgery
- "Twilight Zone" trailer
- "True Detective" season 3
- "Pet Semetary"
- "Curse of La Llorona" trailer
- "The Living Dead" novel from George Romero
- Frog Brothers gender switch
- "Jaws" board game
- "Banana Splits" horror reboot?!
- "Child's Play" reboot trailer
- "Creepshow" coming to Shudder and more!


[ Anchor.FM ] [ Spotify ] [ YouTube ] [ iTunes ] [ Stitcher ]
[ Google Play ] [ Radio Public ] [ Pocket Casts ] [ RSS ]
Subscribe to the
Without Your Head
newsletter to receive weekly updates on our schedule, guests and more!
Tracks for this podcast -
Our new theme song by
The Tomb of Nick Cage
"Cut Off Your Head" and "Girl" by Music of the Month
Scary Cherry & the Bang Bangs
!
Please help keep WYH running!
Join in the fun at:
www.facebook.com/groups/withoutyourheadhorror
Subscribe to
Youtube.com/WithoutYourHead
Follow us on Twitter @WithoutYourHead
Follow us on Instagram @WithoutYourHead