Review of "Escape Room" by The Headless Critic

Escape Room – 2019

Production by: Original Film
Distribution by: Columbia Pictures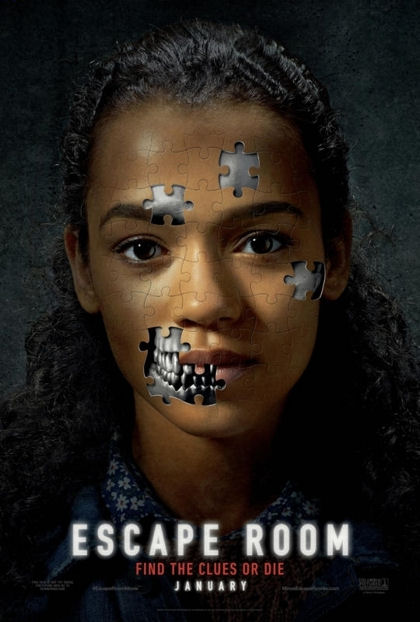 Six strangers receive a puzzle box invitation to the newest and most complex "all immersive" escape room ever created. A business man (Jay Ellis), a burnout (Logan Miller), a war vet (Deborah Ann Woll), a reclusive genius (Taylor Russell), a truck driver (Tyler Labine) and an escape game nerd expert (Nik Dodani) find themselves locked into an Escape Room that seems all too real. The walls are closing in and their lives are at stake. "Solve the Puzzle. Escape the Room. Find the clues or die."

From fire to ice, a topsy turvy maze of gingham circus confusion keeps six stranger from all walks of life on course through the ultimate maze of escape rooms. Six people, six rooms, maybe one survivor. With the popularity of escape rooms growing, it was only a matter of time before Hollywood made a movie about it. I just never expected it to actually be good.

The director of the 2014 underground horror favorite The Taking of Deborah Logan Adam Robitel, takes a Hollywood produced movie, with multiple writers, trying to capitalize on the popularity of escape games and he turns it into a multi-million dollar budget, wide theatrically released film that's actually worth getting out and going to see. Channeling their inner Saw, a maze of rooms designed to kill must be survived, or not. The mystery of why they're there and the murder that ensues also mirrors another cult horror favorite The Cube.

This is big-budget Hollywood horror done right. A fun thrill ride similar to Saw or Final Destination where you follow a group of people trying to survive in a world built to kill them. I never expected to like a Hollywood Escape Room but I did. Below is a peek inside each room, warning, there are some minor spoilers ahead.





Room One: The Waiting Room
The fight for survival begins before the game is even known to have started. It's getting hot in here and to survive you must escape. Survival may just be as real as the heat bearing down on them.

Room Two: Cabin in the Arctic
From fire to ice, the survivors are stranded in what appears to be the arctic, though they never left the confines of the corporate building they started in. Before they freeze to death they must escape.

Room Three: Eight Ball Pool Hall
Topsy Turvy, everything is on its head. They started with six but there's not six left any more. That damned phone won't quit ringing and that music won't stop playing. They'd better figure this out before the floor falls out before them.

Room Four: The Hospital Room
The lengths to select them are no longer hidden but how could anyone know this much about their history? Limited time to not think, they must escape before their essence of life is poisoned.

Room Five: Gingham
A carnival hallucination and only one antidote, disorientation is only the beginning in this room's round and round fight for survival.

Room Six: The Study
As the game draws closer to an end, so do the walls. There's not many left now but a winner isn't a guarantee.

Available Now in Theaters Everywhere

4 out of 5 Headless Critics