Streaming Review of "Delirium" by The Headless Critic

Delirium – 2018

Production by: Blumhouse Productions, GK Films, Appian Way
Distribution by: BH Tilt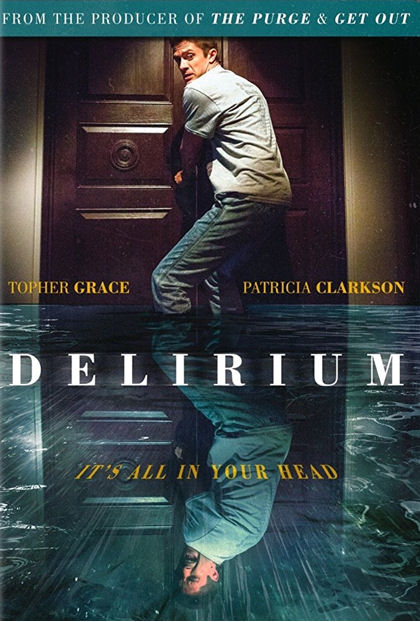 Confined to a mental institution his entire adult life for his part in a violent crime that led to the death of a young girl, Tom (Topher Grace) has just been cleared to be released. With his parents now deceased, Tom is confined to their mansion he inherited where he'll be under supervised house arrest. Tom sometimes sees things that aren't there and adjusting to life in the outside world will be a challenge of its own in addition to having visions he cannot trust. His one saving grace are the words of his Psychiatrist (Harry Groener) who told him to always remember to trust his mind not his eyes.

With a parole officer Brody (Patricia Clarkson) who's a little too caring, taking advantage of him and a sexy delivery girl Lynn (Genesis Rodriguez) taking a little too close of interest in what she perceives as a dangerous boy, temptation is plenty while sanity is not. Struggling to maintain the terms of his parole, strange things begin happening in his mansion home leaving Tom to also question if it's all in his head or if his new home is actually haunted.

The second film from director Dennis Iliadis and writer Adam Alleca, the duo that brought you the remake of Last House on the Left on 2009 is a surface level exploration of psychosis. Much like star Topher Grace who can fill the roll but is never able to completely become a character losing himself in the role, Delirium does an adequate job as a psychological thriller but doesn't explore deep enough into psychosis to become a stand out film.




I don't know how anyone thought that in a movie exploring a man's mental state making the brother a real person and not some second personality or delusion was ever a better idea? You're throwing away an exploration of the faults of the mind which has limitless possibilities to create a character out of nowhere that never really fits into the script. Also mother living in the hidden basement? How long was she there? What did she eat? It's a very unexplained, incoherent to reality story that could have been so much better. Topher Grace's natural likability from his stint on That 70's Show and his stiff straight laced performances made him an excellent candidate for a Norman Bates type character and I feel while good, this film just wastes all that potential.

Available Now on Delirium

3 out of 5 Headless Critics