Review of "Death House" by The Headless Critic

Death House – 2018
Production by: Entertainment Factory
co-production with: Capital Alliance Productions
in association with: Carolco Films, Class of 85
Distribution by: Sony Pictures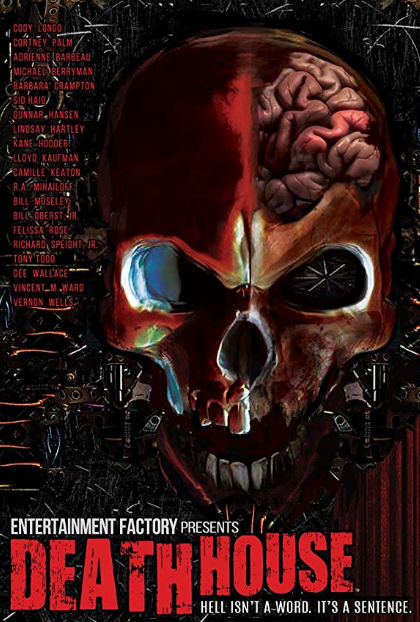 Death House is a secret prison holding the world's most dangerous human beings. This underground experimentation isn't just cells and bars. The most devious minds ever born are being studied in a virtual matrix of horrors. These criminals are given whatever triggers their violent behavior from the occult to providing real victims for their assaults. All of it is just to study and understand how they operate. "Who prays for Satan the original sinner?"

Two top agents who know what they are even if they can't remember who they are, take a tour of this hell on earth. "Follow the yellow line, do not deviate." When the facility experiences a power outage, evil is unleashed within its confines. The agents must work their way through a labyrinth of crazy to the bottom of a house of horrors as the most ruthless criminals in the world are freed. The inmates have taken over the asylum.

While working the horror convention circuit the original Leatherface Gunnar Hansen came up with the idea to put all of his convention friends who could use some more work in a movie together. It was set to be "The Expendables of horror". A stuntman turned actor by trade Gunnar knew he had an excellent idea but he also knew he wasn't a writer. His original script would undergo many re-writes as Gunnar entrusted his concept to director B. Harrison Smith. Unfortunately Gunnar Hansen would not get to see his film of friends come to fruition as he passed away in 2015. The gentle giant's legacy lives on through his many works, his fans and his bringing together the greatest legends of horror history into one film.

The concept of Gunnar's Death House is excellent. In fact it mirrors the rumored story DC was planning for their next solo Batman feature where the inmates of Arkham Asylum are unleashed within the buildings confines and Batman must work his way from the top to the basement through increasingly more volatile levels of villains. Bringing together the biggest names in horror history is easier said than done.

As Sieg (Kane Hodder), the baddest man on the cellblock promises, "I will fuck you in hell", it's no surprise that all of the women in Death House expect to be raped and killed. Reality is illogical for the sake of gratuitous pleasure. Gratuity comes in every form in Death House from nudity, to gore, cameos, its dialogue and the kills. The blood flows and the heads roll. In a virtual reality world where there are no rules, everyone must die.

Filmed to accommodate the shooting schedules of its large cast, Death House is an almost incoherent script of cameos. The backstories of how the prisoners got into Death House penitentiary are told via glitchy, virtual reality green screens that attempt to excuse numerous cameos that serve no purpose in the later story when the prisoners are released. Green screen seems to be used the entire film and written off as being in a virtual reality setting so it's ok, it's not. I'm pretty sure at one point the green screen that was originally intended to have a background on it is left without a rendered image and passed off an intentional.

Every horror fan has heard about Death House "The Expendables of Horror". The Expendables is a bad movie with a simple action script that had a lot of fun with its all-star cast. Death House is a hot mess of horror. There are numerous good performances from a deep talent pool of horror icons. All but a few of those roles serve no purpose to the progression of a story that's only loosely held together with the vaguest of scripts. I really wanted to like Death House. The reason to watch this one is for its all-star cast to die for.


Death House
Starring
Adrienne Barbeau (The Fog)
Michael Berryman (The Hills Have Eyes)
Barbara Crampton (Re-Animator)
Gunnar Hansen (Leatherface)
Lloyd Kaufman (TROMA founder)
Camille Keaton (I Spit on Your Grave)
R.A. Mihailoff (Leatherface)
Tony Moran (Michael Myers)
Bill Moseley ('Chop-Top' Sawyer)
Bill Oberst Jr. (Papa Corn)
Sid Haig (Capt. Spalding)
Kane Hodder (Jason Voorhees)
Beverly Randolph (Return of the Living Dead)
Debbie Rochon (Model Hunger)
Felissa Rose (Sleepaway Camp)
Genoveva Rossi (Scream Queen)
Stelio Savante (The Cleaning Lady)
Tony Todd (Candyman)
Vernon Wells (The Road Warrior)
Sean Whalen (The People Under the Stairs)
Dee Wallace (Cujo)
Larry Zerner (Friday the 13th Part 3)
Available December 11th, 2018
Pre-Order
Now
1 out of 5 Headless Critics