Laurene Landon of Maniac Cop, All The Marbles, Full Moon High and so much more joined Nasty Neal!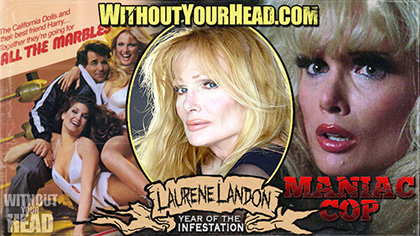 Laurene Landon joined Nasty Neal to chat about:
- Larry Cohen
- King Cohen documentary
- William Lustig
- Maniac Cop
- Bruce Campbell
- All The Marbles
- wrestling and G.L.O.W.
- binge worthy TV shows
- Sky now on Netflix
- tons of upcoming films and more!
- Please check out Laurene's website for pictures, news and more!
http://www.laurenelandon.biz

Buy Maniac Cop on Blu-Ray


Buy All The Marbles



[ Anchor.FM ] [ Spotify ] [ YouTube ] [ iTunes ] [ Stitcher ]
[ Google Play ] [ Radio Public ] [ Pocket Casts ] [ RSS ]
Subscribe to the
Without Your Head
newsletter to receive weekly updates on our schedule, guests and more!
Music of the month
The Creepshow
supplying the tunes!
Tracks for this podcast -
Our new theme song by
The Tomb of Nick Cage
"My Soul to Keep" by
The Creepshow
!
Join in the fun at:
www.facebook.com/groups/withoutyourheadhorror
Subscribe to
Youtube.com/WithoutYourHead
Follow us on Twitter @WithoutYourHead
Follow us on Instagram @WithoutYourHead
Rent All The Marbles on VOD