Russ McKamey of the controversial McKamey Manor joined Nasty Neal!
McKameyManor.com



Russ McKamey joined Nasty Neal for 3 hours!
- the origins of the Manor
- changes over the years
- what he personally gets out of the Manor
- guests who looked for BDSM experiences
- groups dedicated to hating the Manor
- loyal fans
- is he a sadist?
- so much more with tons of calls from fans and detractors alike!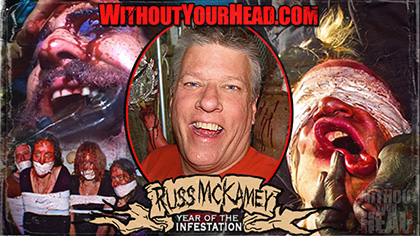 Nasty Neal then went over horror news from the week and Texas Frightmare Weekend review!


[ Anchor.FM ] [ Spotify ] [ YouTube ] [ iTunes ] [ Stitcher ]
[ Google Play ] [ Radio Public ] [ Pocket Casts ] [ RSS ]
Subscribe to the
Without Your Head
newsletter to receive weekly updates on our schedule, guests and more!
Music of the month
Goth Brooks
supplying the tunes!
Tracks for this podcast -
Our new theme song by
The Tomb of Nick Cage
"We Come Together" and "Maria" by
Goth Brooks
!
Join in the fun at:
www.facebook.com/groups/withoutyourheadhorror
Subscribe to
Youtube.com/WithoutYourHead
Follow us on Twitter @WithoutYourHead
Follow us on Instagram @WithoutYourHead