Marshal Hilton joined "Nasty" Neal to discuss the new original Bigfoot film "Primal Rage"!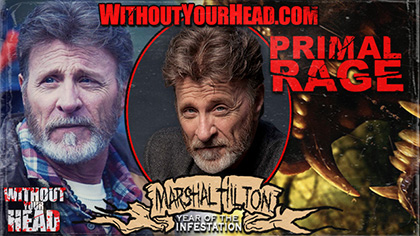 Lost deep in the forest of the Pacific Northwest, Ashley and Max Carr are stalked by a terrifying creature that might be Bigfoot. Soon they find themselves embroiled in a strange land of Native American myth and legend turned real. Hopelessly trying to survive, with a handful of unsavory locals, they must fight back against this monster in a desperate battle of life or death.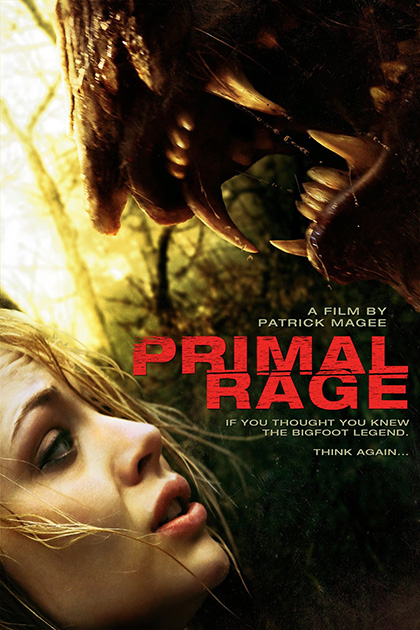 If you thought you knew the Bigfoot legend, think again as Fathom Events and Blue Fox Entertainment are set to bring "PRIMAL RAGE – Bigfoot Reborn" to movie theaters nationwide on Tuesday, February 27 at 7:00pm local time. Directed by special effects master Patrick Magee ("Men in Black 3," "Spider-Man," "AVP: Alien vs. Predator"), the movie follows a newly reunited young couple as their drive through the Pacific Northwest turns into a hellish nightmare. After viewing the bloodcurdling feature, moviegoers will be treated to an exclusive Q&A and behind-the-scenes look at the making of the film with Magee and producer Angela Lee, hosted by a special guest. Additionally, attendees will receive a free commemorative mini poster (while supplies last).
Official Trailer: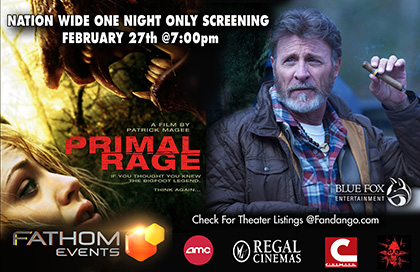 Get your tickets here www.fathomevents.com/events/primal-rage

PRIMAL RAGE screens for one night only at theatres across the U.S before a home video release a little later on.
Hilton, whose many credits include THE PERFECT WEAPON, BEETLEBORGS METALLIX and ASSASSIN X, plays B.D, the leader of a group of boisterous, gun-toting locals who go after Bigfoot, in the Patrick Magee directed film. B.D cuts an imposing figure but he's foolish, ultimately letting his team become the hunted as opposed to the hunted.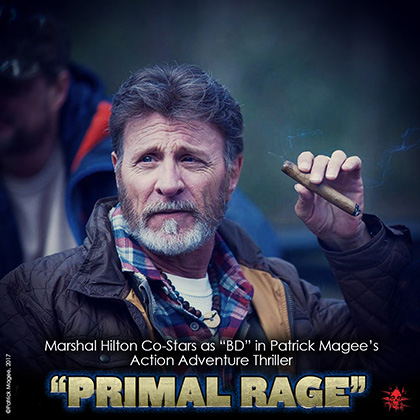 Hilton says, "[PRIMAL RAGE] has stunning forest visuals, action, suspense and a thundering sound track. It's an intense experience. The best description I can give you is, think Arnold's "Predator", in the deep forest, with angry fur and carnage. I'm confident in saying that the legend of Bigfoot will never again be seen in the same light."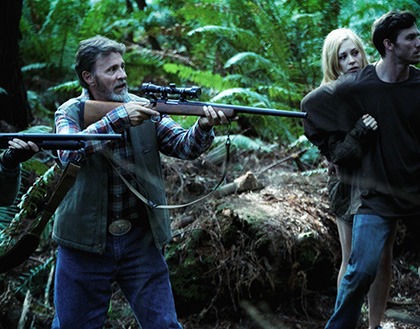 MARSHAL HILTON
Born in Long Beach California, this Southern California native has been working in Music, Film & Television since the age of 13. Marshal started off as Music and Theater major in Santa Barbara in the early 80's, eventually changing his major to Marketing and Advertising while attending San Diego State University. Looking for a change of scenery, Marshal transferred to San Francisco State to work on his Masters, all the while continuing to be creative in the Arts. Marshal ended up studying acting again with legendary Bay Area acting coach Jean Shelton, widely regarded as one of the finest acting teachers in the country. Mrs. Shelton had worked with Stella Adler, Harold Clurman and Lee Strasberg in the heart of the New York stage community, and had worked with the likes of Danny Glover and Howard Hessman, so Marshal figured he was in good hands. While living in the San Francisco Bay Area, Marshal continued to study acting and work on independent films before relocating back home to Southern California.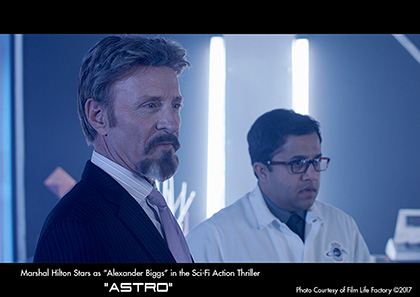 With close to 40 plus films to his credit, the former FOX Series Regular Co-Star, on the #1 Rated Fox Kids Show Beetleborgs Metallix, Marshal has been steadily working since his self imposed seven year hiatus from Hollywood after the show went into syndication. Since his return in 2006, he's been a consistent presence in the Indi Film world.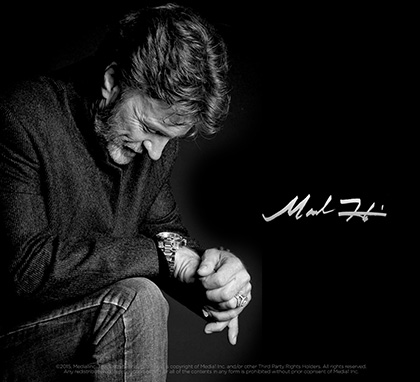 [ Anchor.FM ] [ Spotify ] [ YouTube ] [ iTunes ] [ Stitcher ]
[ Google Play ] [ Radio Public ] [ Pocket Casts ] [ RSS ]
Subscribe to the
Without Your Head
newsletter to receive weekly updates on our schedule, guests and more!
Music of the month
Venus De Vilo
supplying the tunes!
Tracks for this podcast -
Our new theme song by
The Tomb of Nick Cage
"I got 99 Zombies and a Witch Ain't One" by
Venus De Vilo
!
Join in the fun at:
www.facebook.com/groups/withoutyourheadhorror
Subscribe to
Youtube.com/WithoutYourHead
Follow us on Twitter @WithoutYourHead
Follow us on Instagram @WithoutYourHead