Russell Geoffrey Banks of the new serial killer flick "Who's Watching Oliver" joined "Nasty" Neal!



Russell Geoffrey Banks went over:
- co-writing "Who's Watching Oliver"
- creating Oliver's look and mannerisms
- playing the character during dark scenes
- serial killer films
- "Henry Portrait of A Serial Killer"
- his background and he got to Bangkok from UK
- growing up with VHS stores
- pro wrestling memories
- festivals
- costars and more!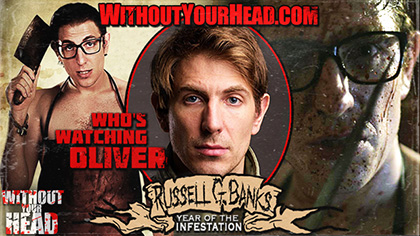 [ Anchor.FM ] [ Spotify ] [ YouTube ] [ iTunes ] [ Stitcher ]
[ Google Play ] [ Radio Public ] [ Pocket Casts ] [ RSS ]
Subscribe to the
Without Your Head
newsletter to receive weekly updates on our schedule, guests and more!
Music of the month
Venus De Vilo
supplying the tunes!
Tracks for this podcast -
Our new theme song by
The Tomb of Nick Cage
"Stalk Me" by
Venus De Vilo
!
Join in the fun at:
www.facebook.com/groups/withoutyourheadhorror
Subscribe to
Youtube.com/WithoutYourHead
Follow us on Twitter @WithoutYourHead
Follow us on Instagram @WithoutYourHead