The cast/crew behind the upcoming SPECIAL NEEDS REVOLT including Adrian Esposito (Greetings From Tromaville), Bill Weeden (Sgt Kabukiman), Michael J. Epstein (Blood of the Tribades) and Lloyd Kaufman! Plus our 6 6 6 list of top horror films of 2017!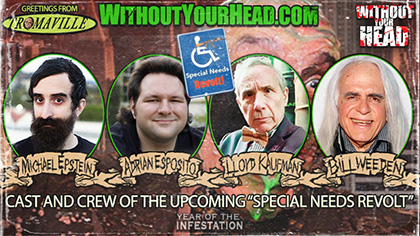 [ Anchor.FM ] [ Spotify ] [ YouTube ] [ iTunes ] [ Stitcher ]
[ Google Play ] [ Radio Public ] [ Pocket Casts ] [ RSS ]
Subscribe to the
Without Your Head
newsletter to receive weekly updates on our schedule, guests and more!
Music of the month
VHS
supplying the tunes!
Tracks for this podcast -
Our new theme song by
The Tomb of Nick Cage
"Weight Reduction Through Terror" and "From the Scrapyard to the Graveyard" by
VHS
!
Join in the fun at:
www.facebook.com/groups/withoutyourheadhorror
Subscribe to
Youtube.com/WithoutYourHead
Follow us on Twitter @WithoutYourHead
Follow us on Instagram @WithoutYourHead