Launch Over's giallo-inspired modern thriller feature Clickbait gets a teaser poster and entered production on December 9th.

Tagline: You only die once!

A college student who will do just about anything for Internet fame is kidnapped by a fan, and her reluctant roommate is the only one who can save her.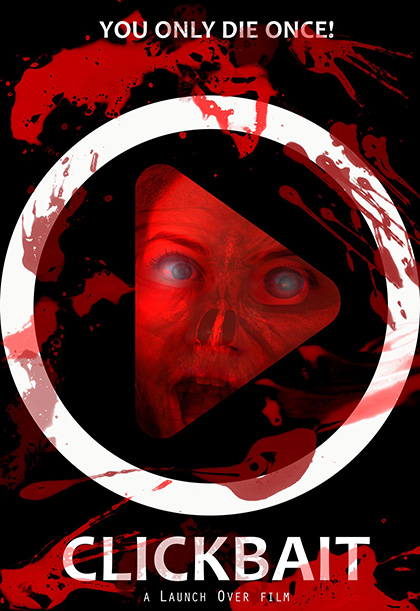 Clickbait tells the story of Bailey and Emma, roommates who have conflicting philosophical views on fame in the Internet age. Just when Bailey's vlog stats begin waning, they are threatened by a dangerous stalker, resulting in their exploding popularity on the vlogging site str33ker. When Bailey is kidnapped, Emma, with the help of the incompetent detective Frank Dobson, must race against time and her own exploding popularity, to locate Bailey.

The film is Michael J. Epstein's directorial followup to the 70s sociopolitical lesbian vampire film, Blood of the Tribades. He co-wrote the screenplay with first-time writer Jeremy Long as a study on the media's use of violence and its exploitation of celebrity vulnerability in an ever-escalating war to collect clicks. Tribades co-director, Sophia Cacciola, is the cinematographer on this outing. The film's look, mood, and style aims to be a markedly less gore-driven version of giallo slasher-mysteries like Torso, Opera, The Evil Eye, and Suspiria.

Clickbait reunites Epstein with Tribades lead villain Seth Chatfield, who this time plays police detective Dobson, an incompetent rookie detective responsible for solving the kidnapping. The film introduces Amanda Colby Stewart as Bailey and Brandi Aguilar as Emma.

IMDB
Facebook
Twitter