Available in at Six-Disc Box Set  April 11th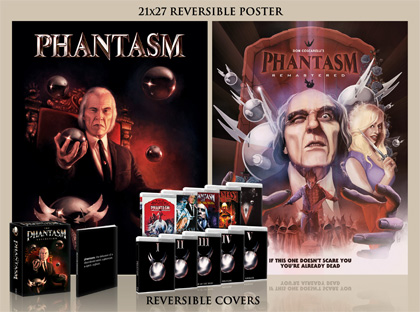 One of the most popular franchises in the history of horror, the Phantasm film series has terrified fans for generations. Well Go USA Entertainment answers the prayers of those fans with the highly anticipated release of THE PHANTASM COLLECTION, a six-disc Blu-ray™ box set debuting on April 11.  The collection features all five frightening films in the series – PHANTASM: REMASTERED (1979), PHANTASM II (1988), PHANTASM III: LORD OF THE DEAD (1994), PHANTASM IV: OBLIVION (1998) and the most recent installment PHANTASM: RAVAGER (2016). In all five films of Don Coscarelli's iconic series, Mike (Michael Baldwin) faces off against a mysterious grave robber known only as the Tall Man (Angus Scrimm) and his lethal arsenal of terrible weapons. 
 
In addition to previously released archival material, Coscarelli has produced hours of new bonus material featuring new interviews with cast and filmmakers, as well as never-before-seen archival materials.  The material is interspersed throughout the discs, plus a sixth disc featuring additional new and archival bonus materials. Included with the collection is Phantasm Compendium, a 120-page book featuring exclusive interviews and rare, behind-the-scenes photos chronicling the history and impact of the franchise, plus a 21" x 27" reversible poster featuring the iconic original artwork.
 
Packaging on all five films will feature reversible sleeve art, with one side highlighting the original artwork and the reverse showing new artwork exclusive to the collection. In addition, the discs themselves will be BD50, which allow for less compression and a higher quality audio, as well as more space for the extensive bonus materials.
 
The sixth disc of THE PHANTASM COLLECTION features additional vintage and new special material, including the all-new featurette "Phantasm and You," a comic recap of the first four films by PHANTASM V: RAVAGER director David Hartman and the previously released "Phantasmagoria" a documentary containing new and archival interviews with cast and crew.