Without Your Head Horror Radio presents SUNDAY SUMMONING! Tonight and every Sunday @6E/3P sit down and listen to vintage horror radio! Ghost stories, radio drama, Sci-Fi tales and more from yesteryear!

Get into the Halloween season with this classic 1931 thirteen episode radio presentation of Mary Shelley's classic "Frankenstein" starring George Edwards.

First broadcast in 1931 for Australian radio, then in 1932 for CBS radio in the states after the release of the classic film from Universal. This thirteen episode serial follows the story from the original novel.

Sit back and enjoy classic radio here on Without Your Head....horror and beyond!

Listen now!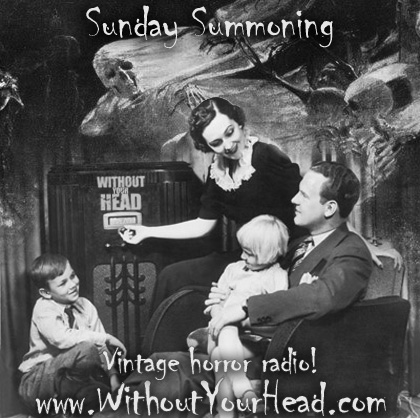 Episode 1: The Wanderer
Episode 2: Strange Genesis
Episode 3: The Power and the Price
Episode 4: The Monster Returns
Episode 5: A Death in the Woods
Episode 6: The Hunter and the Hunted
Episode 7: The Promise
Episode 8: Reunion on Ornkey Island
Episode 9: Bitter Homecoming
Episode 10: Vendetta
Episode 11: Escape and exile
Episode 12: Pursuit
Episode 13: The Last Death