DO YOU BELIEVE IN ALIENS?

Send us your personal experience with Aliens. Sighting? Abduction? Probing? Whatever it may be, send us your story to read on an upcoming ALIENS edition of WYH !!!

To make it fair, we will also accept your entries of why you don't believe.

One lucky entrant will win a FREE copy of "Falling Skies : The Complete Second Season" on Blu-Ray courtesy of Warner Home Video.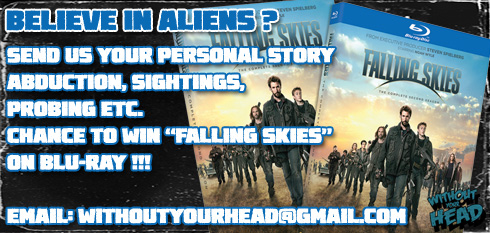 TNT's Epic Drama Falling Skies: The Complete Second Season
Coming to Blu-ray™ and DVD June 4

Noah Wyle Stars in Top-Rated Drama Series from DreamWorks Television

And Executive Producer Steven Spielberg

Falling Skies – TNT's epic alien-invasion saga from DreamWorks Television, TNT Productions and executive producer Steven Spielberg – will return to Blu-ray Disc™ and DVD on June 4. Noah Wyle (ER) stars in the powerful drama, which was basic cable's #1 summer drama among adults 18-49 and adults 25-54 in 2012. Falling Skies: The Complete Second Season will include numerous special features such as audio commentaries, behind the scenes featurettes and more. The release comes just weeks before the series' third season is slated to launch exclusively on TNT in summer 2013.

Falling Skies chronicles the chaotic aftermath of an alien attack that leaves most of the world completely incapacitated. It has been nearly one year since the attack and reality has set in on this whole new world. Season two of Falling Skies follows the 2nd Massachusetts on their quest to Charleston, SC to find more human survivors and fighters from the continuous alien attacks. Tom Mason (Wyle) tries to keep the resistance fighters and his family in line, while new dangers and returning enemies seem to greet them at every stop.

The three-disc Falling Skies: The Complete Second Season DVD and two-disc Blu-ray set will include all 10 episodes from the action-packed drama's second season, along with such special features as a feature on the writing of the series, "The Skitter Evolution," tour of the Falling Skies set, commentary tracks, exclusive trading card from Rittenhouse included on pack, and much more. Additionally, the Blu-ray release will also be available for Ultraviolet digital download. Falling Skies: The Complete Second Season will carry a suggested retail price of $39.98 for DVD and $49.99 for the Blu-ray set, with a retailer pre-order date of April 30, 2013.

In each of its first two seasons, Falling Skies has been a top-rated series across basic cable; in 2011, the series was the #1 new series of the year, and in 2012, it was the #1 summer drama among key adult demos, according to Nielsen Media Research.

Joining Noah Wyle in Falling Skies are Moon Bloodgood (Terminator Salvation) as Dr. Anne Glass, a pediatrician who has become the survivors' primary physician; Will Patton (Armageddon, TNT's Into the West) as Colonel Weaver, the gruff and emotionally scarred commander of the 2nd Massachusetts; and Drew Roy (The Secretariat), Tom's oldest son who is just about to turn 18.

Falling Skies is executive-produced by Steven Spielberg, along with DreamWorks Television heads Justin Falvey and Darryl Frank, Graham Yost (Justified, The Pacific) and screenwriter Robert Rodat (Saving Private Ryan), who wrote the pilot from an idea he co-conceived with Spielberg. Mark Verheiden (Heroes, Battlestar Galactica) and Greg Beeman (Heroes, Smallville) serve as co-executive producers.

Connect with Falling Skies Website: fallingskies.com
Facebook: facebook.com/fallingskies
Twitter: @FallingSkiesTNT