We will start off the show with the cast/crew behind the upcoming SPECIAL NEEDS REVOLT including Adrian Esposito-Nomeika (Greetings From Tromaville), Bill Weeden (Sgt Kabukiman), Michael J. Epstein (Blood of the Tribades) and Lloyd Kaufman!

Immediately following the round table Lloyd Kaufman president of Troma and creator of the Toxic Avenger returns LIVE to Without Your Head Horror and Beyond !! That's right folks, Lloyd Kaufman will return to the show immediately after being on the show! No one has ever dared such a thing, and no one probably ever wanted to!

And the debut of our new theme by The Tomb of Nick Cage!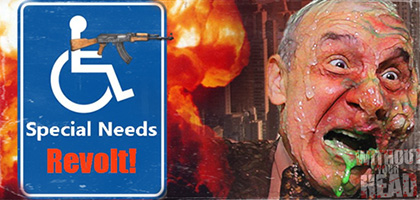 Call in to the Headless Hotline and talk horror with us 1 508 413 3144 or via Skype WithoutYourHead!

Listen Here!

Live via Tune In Radio

Chat Live via Facebook:
WYH Facebook

Music of the month VHS supplying the tunes!